What makes motorsport so fascinating is the combination of the incredible talent of the man and the power of the machine, but since a machine will perform as well as it was designed for, it is the human talent that will prevail at the end. We can easily spend hours, even days passionately discussing who was the greatest racer of all time; on 4 wheels we would be talking about Hamilton, Schumacher, Senna, Fangio and a few others. On 2 wheels we would be talking about two guys only, Mike Hailwood and Giacomo Agostini and nobody else. In this post, I will try to show you why Hailwood is considered one of the greatest motorcycle racers in History.
Stanley Micheal Bailey Hailwood, born in April 2nd, 1940 in England; to the world of motorsport he was Mike Hailwood, to his fans he was simply Mike "The Bike".
His resume is nothing short of amazing: 9 World Championships, 76 Grand Prix wins and 14 Isle of Man victories. These numbers are the unquestionable proof of his talent but they don't tell the story of the man.
Mike had the perfect environment to become a "bike fanatic", his father was a motorcycle racer before World War II and later became a successful motorcycle dealer. As one could imagine Mike learned to ride at a very young age on minibikes, in a field near his home. Mike's first paid job came when his father sent him to work at Triumph motorcycles.
He started his career as soon as he was old enough to compete, he first raced on 22 April 1957, at Oulton Park when he was barely 17, he finished in 11th place. In 1958 he won ACU Stars at 125 cc, 250 cc, and 350 cc classes, earning him the Pinhard Prize, an honor awarded to talented motorcyclists under the age of 21.
In 1961 Mike won his first World Champion in the 250cc, riding a bike from an Asian brand that still had a long way to became popular in Western Hemisphere: Honda. For the next 6 years, he completely dominated the Motorcycle GP, racing for either Honda or the Italian brand MV Agusta.
1961: 250cc – Honda
1962: 500cc – MV Agusta
1963: 500cc – MV Agusta
1964: 500cc – MV Agusta
1965: 500cc – MV Agusta
1966: 250cc, 350cc – Honda
1967: 250cc, 350cc – Honda
It was also during the 60s Mike Hailwood forged a huge rivalry with another fantastic biker, the Italian racer Giacomo Agostini, also know as "Ago".
Giacomo still holds the record of 7 consecutive World Championship on 500cc and 14 total World Titles in moto GP, but it is at the "Isle of Man TT" event that Mike jumps ahead.
Isle of Man TT
Before we move forward, let us try to understand the mystique about this event, just like the sports car universe has the "24 Hours of Le Mans" and Formula Indy has "Indianapolis"; motorcycle GP had the "Isle of Man".
The Isle of Man is a self-governing British Crown dependency in the Irish Sea between England and Ireland. The races are held annually since 1907, usually in May/June. A series of narrow public roads are used as "race track". Since 1911 the Isle of Man TT was transferred to the Snaefell Mountain Course with 37.40 miles (60.19 km) (current length 37.73 miles (60.72 km)). The "TT" stands for "Tourist Trophy" and it follows the "time trial" competition where the bikers run against the clock, leaving the starting line one by one or two by two. If other traditional races in motorsport are well known for endurance and glamour, Isle of Man is considered the scariest race on earth.
The narrow roads of Snaefell Course were not, by any means, designed to be used as a race track. The turns have no run-off area, in fact, some of the turns are surrounded by stone walls. There is no room for mistakes, but mistakes happen and the numbers of racers killed since the event was created is astonishing: Between 1907 and 2019 there have been 151 fatalities during official practices or races on the Snaefell Mountain Course, and 260 total fatalities (this number includes the riders killed during the Manx Grand Prix, and Clubman TT race series of the late 1940s/1950s). In 2016, 5 riders died on the course during official practices or races, bringing the total number of fatalities to 252.
Thanks to the immense popularity of the event, The Isle of Man TT became the official British round for the Moto GP Championship in 1949. The extreme challenge of the race gave this death-defying aura to the event and quickly the "TT" became one of the most anticipated race of the Championship calendar. By the late 60s, Isle of Man TT was at its peak and so was the rivalry between Mike Hailwood and Giacomo Agostini and the 1967 edition of the "TT" became the most emblematic battle between the two bikers. By this time Honda had established a good reputation on the lower classes, 250cc and 350cc, but in the "Big Dog" league, the 500cc, MV Agusta was the dominant brand. Mike and Ago used to be team mates for MV but Honda made an offer to the Englishman that was impossible to refuse and now he was riding for Honda in all 3 categories. His machine was the RC-181, powered by a four-cylinder, four-stroke engine capable to deliver 85 horsepower. Ago was riding the MV Agusta model "Three", with a brand new three-cylinder, four-stroker power plant producing 78 horsepower. The Italian bike was less powerful but it was bulletproof, unbreakable, Honda on the other hand was a real rocket but unreliable. (What? An Italian bike more reliable than a Japanese one? How things have changed!)
As soon as Ago hit the track, he broke Hailwood's record on the first lap at a speed of 108.38 mph (174.42 km/h). Hailwood responded with a second record lap at 108.77 mph (175.05 km/h) but Agostini still led by 8.6 seconds. After the first six-lap race, Hailwood had cut Agostini's lead to a couple of seconds, but he then lost time at the pits fixing his bike. Agostini's lead was back up to 11.6 seconds. The two bikers kept the fight going on at every single lap and the riders appeared close to a dead heat, with the closest of finishes appearing likely.
Then disaster struck Agostini on the mountain section when his chain broke at the Windy Corner. He was able to roll his bike back to the pits, but he was disqualified for taking a short cut. In the heat of the moment, Agostini threw his helmet to the ground. Hailwood went on to win at a record lap of 109.77 mph. His record stood for eight years and was only beaten in 1975 by Mick Grant. Hailwood's original Honda RC181 is owned by the Hailwood Trust and occasionally ridden at public events by his son David.
The 1967 event is considered the most exciting "TT" ever, when the two most talented bikers in History fought each other at every inch of the course, but the future of the Trophy was uncertain at this point. As the years go by, the race bikes were becoming faster and faster and naturally, more and more dangerous to ride them at the Isle of Man course. There were six fatalities among racers in the 1970 event alone, making it the deadliest year in the history of the "TT". In 1972, Agostini announced he would never race again at the Isle of Man, declaring it too dangerous for international competition. He declared it is outrageous that such a race should ever be part of the Moto GP calendar and professional riders were forced into it. Soon more bikers joined him at the boycott and not only them but also the government and even the church were asking for a complete ban of the races in Isle of the Man.
Even under great pressure, the organizers took another 4 years before removing the official status of the "TT" and transferring the British Moto GP to Silverstone in 1977.
The car racing years
Mike Hailwood also pursued a career as Formula One driver but in the beginning, it was more like a side job. His debut in Formula One was in 1963 driving for Reg Parnell's privateer team. In his first Formula One race, Hailwood finished eighth in a Lotus 24-Climax at Silverstone. The following year, Hailwood finished sixth in the Monaco Grand Prix, driving the team's Lotus 25-BRM.
In 1968, Honda had decided to withdraw from motorcycle racing for a while, but they wanted to keep Mike as their exclusive rider for an eventual return. Honda paid Hailwood £50,000 to keep him at home, not to compete in any motorcycle series. Mike saw this as the perfect opportunity to go full throttle on 4 wheels.
When Ford crushed Ferrari at Le Mans for 4 consecutive years, Mike Hailwood was part of it; he finished third in 1969, driving one of the Gulf GT40, in partnership with David Hobbs.
In 1971 Mike was back to Formula One, driving for Surtees and in his first race, he finished fourth at Monza. The 71 season was disappointing because the Surtees cars had some reliability issues, but when things clicked he was up with the front runners and four of his five finishes were in the top six.
In 1972 Mike went to Formula Two and he won the European Title, which gave him some confidence to go back to Formula One, driving once again for Surtees in 1973.
Mike, just like many other fellow racers from this generation, came from a wealthy family and for a while, he lived his life as a "playboy". He was a well-known party animal, rumors say he was the one who thought James Hunt how to party. But underneath this "bon-vivant" image there was a guy who was willing to risk his life to save a friend.
At the 1973 South African Grand Prix at Kyalami, Mike Hailwood was involved in a collision, on the second lap of the race; on the following lap, Clay Ragazzoni crashed his car onto Mike's Surtees. Regazzoni was knocked unconscious and his BRM caught fire. Hailwood rushed to Regazzoni's car and tried to pull him out only for his own clothing to be set alight. A race marshal tried to put out the flames with a fire extinguisher without much success while Hailwood runs away with his race suit in flames. As soon as Mike extinguished the fire on his suit he rushed back to a second attempt to rescue his friend whose car remained engulfed in flames. This time he managed to pull the Regazzoni out.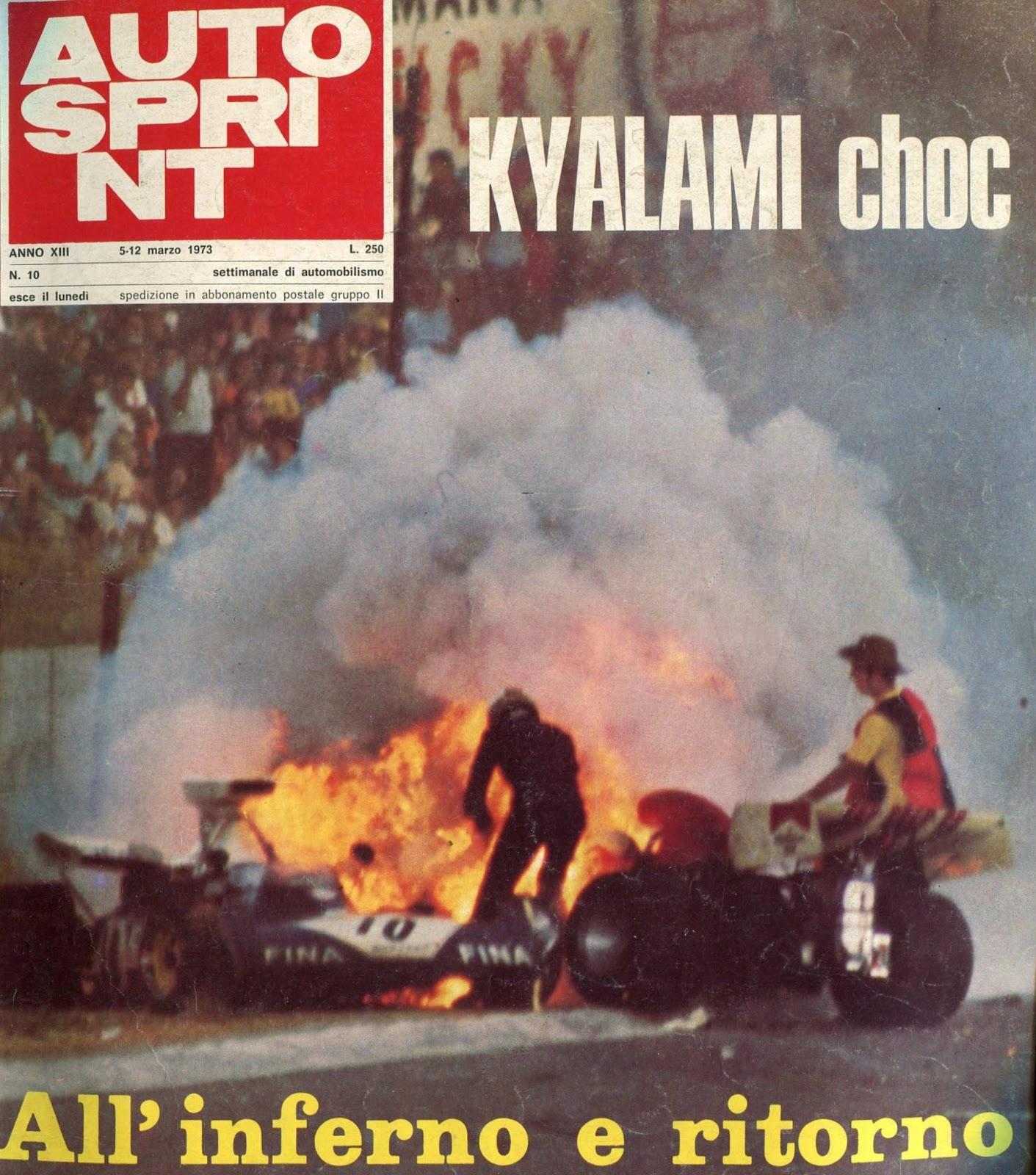 Hailwood's actions saved Regazzoni's life and for his heroic act, he received the George Medal from the British Crown, the second-highest civil award for bravery in face of danger.
In 1974 Hailwood joined The Yardley – Mclaren team and had a very good season start with three top-five finishes, including his best result ever, third in South Africa, and fourth at the Dutch Grand Prix, but it didn't take long for him to run out of luck, he was in the fifth position at Nürburgring when he crashed, sustaining serious leg injuries which eventually forced him to retire from competition.
Mike and his family moved to New Zealand where he started a boat business and for a while, they lived a quiet life, but behind the scene, "The Bike" was planing his comeback to the race track.
The Return of the King
Hailwood had everything set for his comeback in 1978, and naturally, he chose the Isle of Man for his stage. But at this time all the odds were against him, the last time he competed professionally was 11 years ago and now everything has changed, the bikes were completely different, engine, brakes, tires, everything was new for him. On top of that he, at 38, was considered an old man for the sport and he was even out of shape, had cultivated a little "potbelly" that made riding not so comfortable.
By 1978, his former team, Honda, was the dominant brand at the competitions, followed by the other Japanese brands, Yamaha, Suzuki, and Kawasaki, but none of the big players were willing to sponsor Hailwood. What he got was a "non-official" Ducati 900 SS, provided and prepared by a provincial motorcycle dealer, Sports Motorcycles of Manchester, which was owned by Steve Wynne. Everybody knew Mike had no chance of victory, going against the mighty works Hondas ridden by Phil Read and John Williams. Some friends and family were fearing for his life and some other friends believed Mike was, actually, not going all out for the victory; in their minds, he just wanted to be part of the TT one more time. But Hailwood wasn't the kind of guy who would wear the helmet just for the fun of it.
From the very beginning of the race, "The Bike" set an insane pace, not giving the smallest chance for the other Bikers. The only time he did not lead the race was on lap one at Ballacraine, where he trailed Tom Herron by five seconds.
Trying to keep up with Mike, Phil Read pushed his bike beyond the limit and he was forced to retire. Williams on the second Honda completed the race in second but his machine was literally falling apart, he almost lost the fuel tank of his Honda. Hailwood finished 1 min 59.4 seconds ahead of Williams. At the end his Ducati was also at the edge of break down, according to the mechanics, the transmission chain was so stretched it wouldn't last another lap. He scored an average speed of 108.51mph, a new race record and also set a new lap record of 110.62mph. He had done the impossible. There were a lot of grown men crying when Mike's name was announced as the winner. Mike himself broke down in tears when he pulled over at the end.
In 1979, Mike came one last time to the Isle of Man, winning the Senior class on a Suzuki RG500. With the same bike he fought really hard with Alex George who was riding a Honda twice as big (1100cc), they swapped the lead for all six laps but in the end, Mike lost it by two seconds in another epic TT battle. Then he truly did retire, leaving the scene as the biggest rider of all time. He went to the small English town of Tanworth-in-Arden, with his wife and two young children.
The End
For me, Mike "The Bike" was no stranger, I knew about some of his achievements but obviously not that much; as I researched and wrote about him, my admiration grew considerably and as a result, it became very hard to write this final part about Mike Hailwood's death. I really wish the guy was still here with us, enjoying his retirement with his family.
On the evening of March 23, 1981, Mike left his house with his two kids, to pick up dinner, an order of fish and chips. Before reaching the destination a truck made an illegal U-turn and crashed head-on with Mike's Rover. Michelle, aged nine, was killed instantly. Mike and David were taken to hospital, where Mike died two days later from severe internal injuries. He was 40 years old. David survived with minor injuries. The truck driver was fined £100. During his funeral, three of his closest friends helped to carry the coffin: James Hunt, Giacomo Agostini, and John Surtees.
Motor Sport magazine wrote, "He was and always will be the greatest motorcycle racer of all time. You cannot destroy a personality like Mike Hailwood by simply killing him. Hailwood finished his career with 76 Grand Prix victories, 112 Grand Prix podiums, 14 Isle of Man TT wins and 9 World Championships, including 37 Grand Prix wins, 48 Grand Prix podiums, 6 Isle of Man TT wins and 4 World Championships in 500cc.
The Fédération Internationale de Motocyclisme named him a Grand Prix Legend in 2000. He was inducted into the AMA Motorcycle Hall of Fame in 2000 and the International Motorsport Hall of Fame in 2001.
In 1981, part of the TT course was named Hailwood's Height in his honor.
After Hailwood's victory at the 1978 Isle of Man, Ducati offered a 900 SS-based Mike Hailwood Replica. Approximately 7,000 were sold.
PS: As I write this final words, the Australian actor/producer Eric Bana is working on a movie about Mike's epic return to the Isle of Man in 1978, Eric will write, co-direct and star this movie. I can hardly wait for it; It has got to be good since Eric Bana himself is a bike rider and a fanatic gearhead.