The Beatles are back in the spotlight, thanks to the "Get Back", the wonderful documentary about the band's last work, the album Let It Be. The director Peter Jackson (the same director of the Lord of the Rings trilogy) had the access to over 50 hours of never seen before video and audio recorded during the making of the album and he masterfully condensed it into an 8 hour long, 3 parts documentary.
Jackson, who also is a passionate Beatles fan, created a masterpiece that is already changing the way that we, the fans, always saw the band during their last days together.
All this Beatles talking for the last few weeks reminded me that George Harrison was an avid car guy and this passion started very early in his life, pretty much at the same time as he became passionate about rock and roll.
The year was 1955 and George was only 12 years old, his father decided to take the whole family to see the British Grand Prix, which happened that year at the Aintree race track, located in the Merseyside County, only 6 miles away from downtown Liverpool.
What George saw that day was nothing less than amazing, Mercedes-Benz dominated the race with a 1-2-3-4 result and the British driver Stirling Moss (picture above) won his first Formula One GP, narrowly beating his teammate, the Argentine Manuel Fangio. Although many people believed that Fangio allowed Moss to win his first race in front of his home crowd, that didn't change the fact George Harrison fell in love with cars and speed that day.
George's talent as a guitarist would bring him to join, in 1958, the Quarry Man, a skiffle/rock'n roll band led by John Lennon, and the rest is history.
All the Beatles members came from lower/middle-class families and naturally, the automobile was something way too expensive for young guys trying to make some cash playing music in small pubs.
When Ringo Star joined The Beatles, in 1962, he was already a respectable drummer in the Liverpool scene, playing for the Rory Storm and the Hurricanes, a very popular band in town. He was the only one of the Fab Four with enough cash in his pocket to own a fancy car, a 1960 Ford Zephyr Zodiac. As Paul McCartney recollects: "Ringo had a car when the rest of us didn't even dream about it. When we saw him driving that Zodiac we thought he had stolen it".
The Anglia
In 1962, Harrison got his drivers license and, naturally, he was looking for his first car. Brian Epstein, the band manager, immediately called a friend who worked at Hawthorne Motors, a Ford dealership in Warrington.
George got an interesting deal: a blue, 1955 two-door Ford Anglia Deluxe with a very special discount in exchange for a couple of advertising photos with his new ride.
George agreed with the deal, and on the day of the pickup, Ringo offered him a ride to Warrington. Money changed hands, photos were taken and on the way back to Liverpool, the two musicians raced each other on the highway. During the recording of Beatles Anthology, in 1995, George, Paul, and Ringo were talking about their first cars and some memories of that day came back:
Ringo: You had a green Anglia
George: Blue.
Ringo: I took you to get that car.
George: Did you?
Ringo: Yes, to…
George: (remembering) Warrington?
Ringo: Yes, and as we were coming home, you may not remember…
George: (smiling) Oh yeah?
Ringo: You were speeding and I was speeding and we were both bumper to bumper and then you overtook this car in front, and I was ready to overtake, and just as I got right up his arse a dog ran out in front of him so he slammed on his brakes (BANG) I smashed right into him, wrote the f*ck out of my car but was lucky it was by a garage cos I drove it ….well pushed it into the garage… and I had no licence or insurance.
George: Did I stop or did I keep going?
Ringo: No you kept going
George: I didn't see what happened?
Ringo: No, you just didn't give a damn
George: Even to this day I never knew about that!
After a couple of months after buying the Anglia, George had already collected 2 warning tickets for speeding.
The Jaguar
The Anglia was a nice first car but with a 997cc engine and 40 HP, it was nowhere near to George's expectations. By 1963, The Beatles had already taken the UK and Europe by storm and finally, George could afford to buy a real car, a brand new Jaguar Mk2.
There is not a lot of information about this car around, apparently it didn't catch the attention of the The Beatles maniacs.
The Second Jaguar
As the rumor goes around, Brian Epstein bought this 1964 E-Type as a gift for Harrison's 21st birthday, and that makes sense since the car was registered only 3 days after the party.
The car was equipped with an ultra-cool dash-mounted record player (only good when the car is not moving).
Harrison loved his Jaguar so much that in a rather funny letter sent to a fan, Susan Houghton, posted by Letters of Note, he provided her with a seven-step instruction on how to wash to his car. In the end, he tells the young lady to pour the "muddy greasy water" onto a nearby Ford Classic, more than likely owned by Paul McCartney. Here is the letter in its entirety:
42, Brodie Ave.
Mossley Hill, Liverpool 18
Dear Susan,
I hope you had a good Chrimbo, and have a happy nuclear peace too. Thank you for giving my mum flowers and chocs (it was you wasn't it??) Thanks also for the card, in fact, THANKS A HEAP SUSAN. "Your too kind" John Lennon.
Instructions for washing car:-
Use plenty of soapy clean water, preferably warm.
2) When car is [though it may take a lot of water]- clean, leave to dry off for about 20 minutes. [You can have a cup of tea now].
3) Now ask mother to find some dusters, [2 each] and with the polish, apply with no.1 duster over an area of about 1 sq foot at a time, in a circular motion. Don't leave it too long before polishing off. This should be carried out until the car is spotless, and gleaming clean. [Don't forget the wheels!]
4) Take 1 brush or vacuum cleaner, and have a bash at the carpets. They too can be made to look like new.
5) The windows [interior] should be polished now, after which you can retire for another tea.
6) Before returning home, I suggest you look over the car again, for any parts you may have missed out, on finding, they should be cleaned accordingly.
7) Now proceed to 20 Forthlin RD. with about 6 buckets full of dirty muddy greasey water, where a shiney Ford Classic will be seen. Spread contents of the buckets evenly, so as to leave a nice film of muck over the car. You can now return home knowing you have done your deed for the day. Thank you!!!
Proceedings should be carried out about the 8th of January.
Thanks again for the cheerio for now don't forget Ban the Bog.
Love from George [Harrison]
The Aston Martin
In 1964 another icon of pop culture was born, the James Bond movie, Goldfinger, debuted in theatres around the world. For the first time, we saw the most intrepid British spy in action and we fell in love with his car, the gorgeous Aston Martin DB5.
George just couldn't resist, in the beginning of 1965, he got his own Aston. If the E-Type was a purebred sports car, the DB5 was a purebred race car, powered by an all-aluminum, 4 litre, dual camshaft, in-line 6 engine, fed by a trio of SU carbs, producing 282 HP, enough to push the lightweight coupe to a 240Km/h.
Aston Martin became a popular choice among British rock stars in the 1960s, Paul McCartney and Mick Jagger also owned cars from the DB family.
The Mini.
In 1965, each Beatle won an Austin-Cooper as a publicity stunt for the British Motor Company. Harrison's car was customized and painted in metallic black by the coachbuilder Harold Radford, and then, in early 1967 it was repainted with some psychedelic/Tantra art motifs.
The Mini appeared in the Magical Mystery Tour movie, released by BBC in December 26, 1967.
Apparently, the Mini still belongs to the Harrison family, its last notable appearance was in the 1998 Goodwood Festival of Speed, where some related celebrities took the car for a spin.
Celebrities like Ringo Star and Damon Hill,
and Stella McCartney.
The Mercedes Benzes
Harrison was a notorious British car aficionado but in 1967, he decided for something different, he bought a "600", the top of the line Mercedes-Benz, he chose the short wheelbase, the car Mercedes called "personal luxury sedan". For the hardcore Beatles fans, this White Mercedes is somehow familiar, it is the car George used to go to the Apple headquarters, on January 30th, 1969, for the famous rooftop concert.
George became hooked on Mercedes-Benz, he owned quite a few of them during his years as a car enthusiast, and on one occasion, in 1972, he and his wife Patty almost lost their lives inside a white 300SEL, when George hit a lamp pole while in route to a party in London. (pictures above).
Another interesting Mercedes was the 600 Pulman Limousine that Harrison bought from John Lennon in 1971. Lennon was about to move to the USA and was selling some of his "stuff". Later on, in 1975, Harrison sold the limo to the American group " The Supremes", the car was shipped to America and used by the Motown stars for a few years during their tours. The car now belongs to a collector, and the picture above shows the "600" after a complete restoration, done in Germany.
If there is one car that can be considered Harrison's daily driver is this amazing, all-black 1984 AMG 500SEL. George drove it for almost 50,000Km during the course of 18 years, the car was auctioned in 2018 for £43K.
George Harrison never stopped buying and selling cool cars throughout his life.
He had them all, Porsches…
Ferraris…
Formula-One
It was only after the break-up of The Beatles that George had more time for his hobby and he started to follow the Formula One up close.
Harrison became a regular presence at many F-One paddocks around the world, sometimes accompanied by Ringo Star.
During this time they made some good friends in the Formula One circle.
Nelson Piquet, Harrison, and Ringo having fun with Jack Stewart.
James Hunt.
The friendship with Emerson Fittipaldi (above) allowed Harrison to visit Brazil, when the two times champion invited the ex-Beatle to see the 1979 Brazilian GP and stay for a few days at his beach house, in Guarujá.
Faster
George's passion for Formula One inspired him to write a song as a homage to the circus and to honour the death of the Swedish racing driver Ronnie Peterson. In an interview to the Rolling Stone Magazine, Harrison said he was satisfied with the lyric of the song because it wasn't just corny: "It is easy to write about V8 engines and vroom-vroom; that would have been bullshit".
Harrison on the track, driving a Formula-One.
In 1979, Harrison was invited to drive the legendary 1960 Coventry-Climax Lotus 18 at the Gunnar Nilsson charity campaign. It is the same car that Stirling Moss won at Monte Carlo in 1960; the hardcore gearheads will recognize it as the one Lotus Team often removed some body panels to make it lighter. The event happened at Donington Park, on July 14th, 1979.
George's recollections of the charity event were published at Goldmine magazine, 27 November 1992 issue:
"I've never raced seriously myself, but I had a go in a Formula One car, with quite an old 3-liter-engine car. I'd drive round Brand's Hatch in one. And I drove in a charity for Gunnar Nilsson, a Swedish driver who died of cancer, because I gave the money from the 'Faster' single off George Harrison to Gunnar's cancer fund.
Anyhow, they had this day for the Gunnar Nilsson campaign at the track in England and they asked me to drive this 1960 Lotus, which had won a race in Monte Carlo when driven by the great English driver Sterling Moss. This car had no seatbelts, and because it had been in a museum for 20 years the tires were hard with no grip on them, yet the car was still pretty quick! But they assured me it was just a demonstration run, going round for five laps in formation and then five laps at your own pace. So I said I'd do it.
I got there, and it's Jackie Stewart in the Tyrrell he won his '73 championship in; James Hunt in the McLaren. Phil Hill in his famous Ferrari. I'm walking to my car while chatting with driver John Watson about the pleasure of the run we're about to take, and he says, 'You're joking. There's no racing driver that goes in formation! As soon as they drop that flag, they'll all be gone like crazy!
Sure enough, as soon as the checkered flag fell, the other cars went whoosh as mine puttered along in a haze of smoke! By the time I got to my first lap they were already coming behind me for their second lap, screaming away! Scared me stiff! [wild laugh] But at least I did better than James Hunt, who broke down on the first pass."
The McLaren
Harrison became a close friend to Gordon Murray when the South African was the chief designer for Brabham and McLaren.
Murray was involved in the development of the "Rocket", an ultra-lightweight, open cockpit roadster powered by a 1-litre Yamaha engine, inspired by the 60's era Grand Prix car. Harrison was one of the first customers of the car.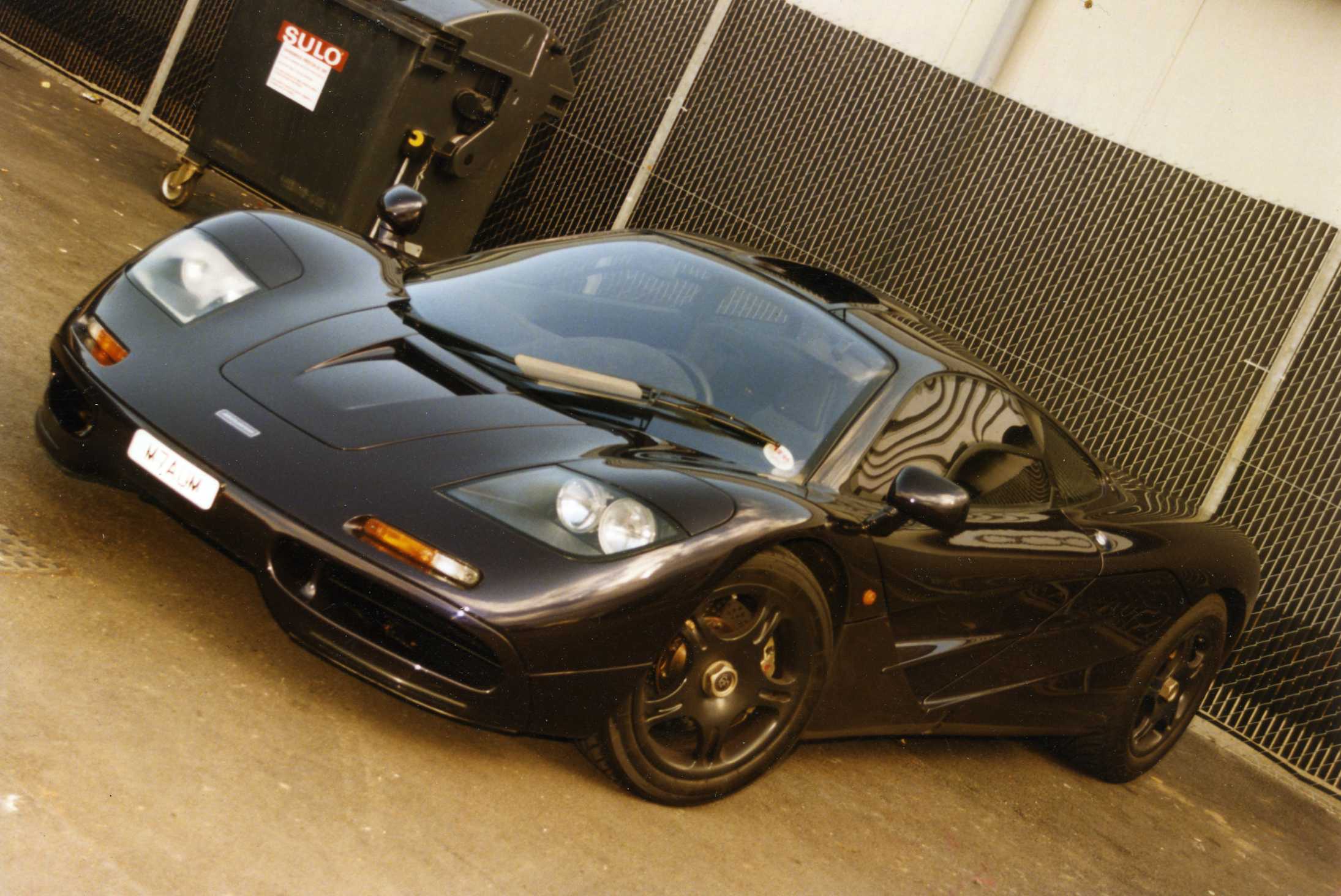 Gordon Murray was part of a more popular project among the gearheads, the McLaren F1, the gorgeous 1990's supercar, powered by a V12 BMW engine.
All Things Must Pass…but George wouldn't pass the opportunity to own a supercar designed by his good friend.
Harrison ordered a custom-built F1, according to his taste. During the process he called McLaren several times, impatiently asking for the date of delivery.
In 1994 the ex-Beatle received the car, chassis #025, painted in Dark Purple Pearl, with black satin wheels, a very unusual combination at the time.
Harrison was an ardent devotee of Hinduism and he asked the bare chassis of 025 to be covered with symbols of his Hindu faith as well as hand-written quotes and song lyrics applied in silver ink by Gordon Murray. George loved this McLaren so much that his family decided to keep it after his death.
George Harrison left this world way too soon, in 2001, when he lost the battle against cancer. For most of the fans, he was an amazing musician who was part of the most influential rock and roll band in history but he was much more than that.
"I play a little guitar, write a few tunes, make a few movies, but none of that's really me. The real me is something else" -George Harrison-
If George was a bit elusive when talking about himself, perhaps one of his good friends from the Formula-One circus, Sir Jack Stewart, gave us a simple but sincere description of Harrison's character:
"One of the great enthusiasts, one of the nicest men. He also had one of the biggest brains that I've had the pleasure of being around. People might say 'you can't be serious, he was just a singer in The Beatles'. But with his worldly knowledge and his beliefs, he was very articulate. He was a great one for coloring pictures of life. He could really graphically describe something, it was like you were seeing a picture in front of you that someone like me could understand, perhaps outside of my normal ability".